Manufacturing Active Pharmaceutical Ingredients (API) is a cost-intensive and time-consuming task. Also known as bulk drugs, APIs are raw materials used in a drug that give it its therapeutic effect. By the end of 2017, the worldwide demand for APIs was estimated to reach $92 billion, according to the European Fine Chemicals Group (EFCG). This demand could grow to $186 billion by 2020, according to analysts. In this fast-paced industry, India has carved a niche for itself and currently accounts for 20 per cent of global exports in terms of volume, according to government reports. However, India lags behind in the production of high-value APIs. To match its global counterparts, Indian companies like Cipla Ltd. have started investing in automation and digitalization to get competitive both in terms of cost and quality.
While Indian pharmaceutical makers continue to face challenges, the industry has flourished over the past two decades owing to early investments in research and innovation towards improved manufacturing of medicines. One such success story is that of Cipla's API manufacturing plant at Kurkumbh, Maharashtra. This facility makes a wide range of APIs used in anti-diabetic, antiulcer, anti-infective, and anti-retroviral (HIV/AIDS) treatments. In their existing batch manufacturing process, products were made stage by stage over a series of workstations. Consequently, Cipla commissioned the "Continuous Process", a new technology that facilitates continuous manufacturing and is known to improve energy efficiency and safety. This process involves finding automated solutions to various critical operations, such as reactor automation, solvent dispensing, crystallizer reactor automation, and acquisition of various data, all of which are critical to process parameters.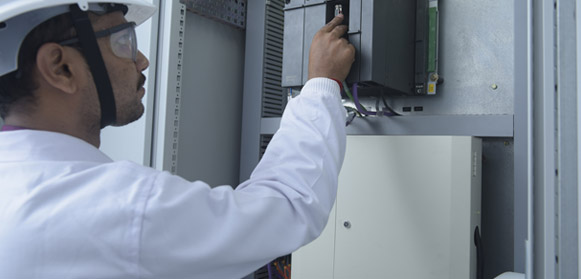 Image: Siemens India
To automate such an intricate process, Cipla partnered with Siemens Ltd. to establish one of the first flow-chemistry-based API plants in India. This included supply of engineering materials, and commissioning of automation panels suitable for hazardous areas, as well as supply, management, and on-site installation services. These systems have been integrated into the core of the manufacturing unit and involve laying down cable trays and signal and communications cables; installation and calibration of field instruments, structural steel, air headers, junction boxes with flameproof enclosures, and many other miscellaneous items.
This complex system of cyber-physical machines is controlled through Siemens' new-age distributed control system software called SIMATIC PCS 7. This process control system helps plant operators make production plans and ensure continuous production, with consistently high quality, while making sure that energy and raw materials are used as efficiently as possible.
However, a large part of manufacturing depends on the engineers and operators of the plant. Here, SIMATIC PCS 7 helps improve performance by automating machinery and placing the controls in the hands of the operator. It also simplifies calculations and comparisons on the shop floor, giving real-time updates of the manufacturing sequences in a clear user interface which removes any chance of ambiguity for the engineers and minimizes input errors. The digital format also allows operators to monitor the overall performance trends of the plant on a computer or mobile device with just a few clicks.
The new technology is known to save time, reduce wastage, lower energy and utility requirements, increase safety, and ensure better quality.
Highlight: The Siemens Approach to Digitalization
The role of medicines in healthcare systems is becoming more important as innovative treatments become available to address unmet clinical needs and ever-expanding health coverage drives demand for pharmaceuticals. Ensuring that patients receive the correct medicine, at the appropriate time and from a convenient location, requires a complex value chain -- from the initial research and development phase, to gaining regulatory approval, which allows a medicine to be sold in a market to the final commercialization phase.
In recent times, pharmaceutical manufacturers have had to contend with increased scrutiny from regulatory authorities such as US Food and Drug Administration's (US FDA) and the European Medicines Agency. An added benefit of using of state-of-the-art Industry 4.0 technologies in the pharmaceutical sector is that the real-time data logging also helps in ensuring compliance with such authorities.
Image: Siemens India
In an industry where quality decides everything, automation and advanced monitoring systems are crucial. From the Cipla case study, it seems evident that for existing and future generation of pharmaceutical companies, automation and digitalization will be the key differentiators in drug research and manufacturing.
As global pharma giants focus on quality by design, production based on actual demand and flexibility, Indian drug makers need to move with the times and automate manufacturing operations with installations of robots and Internet of Things (IoT) to gain an edge, worldwide. Propelled by digital solutions by partners such as Siemens, Indian pharma companies can progress to making more specialized treatments and improve supply capabilities.