The adoption of a data-driven approach using Oracle Cloud Technology helped Save The Children and Sharda University to reach out to a larger community and drive a massive change. Read on to know more.
There couldn't be a happier mother than Pooja Devi. For the longest time, her children - Anita and Kusum were struggling to create an identity of their own - they wanted to study and turn their dreams into reality, but had lost even the slightest hope. After all, they didn't even have a roof above their head and lived on the streets. How could they expect to get proper education?
Little did they know that technology will turn out to be their 'best friend' in the most unimaginable way! "My children finally have their Aadhaar card and go to school now. I would often feel so heartbroken to see other children going to school every day. I had never imagined that my children will be able to study like any other normal child," says Pooja Devi.
There are many mothers like her, who were unable to get access to education but had big dreams for their children. Currently, about 80 percent of street children have no identity, which makes them devoid of their basic rights and services - education, nutrition, healthcare and social security schemes provided by the government.
Getting hold of proper data on street children has always been a pressing problem for India's leading independent child rights NGO, Save The Children. While the NGO has consistently taken steps to help these children get an identity of their own, analyzing real data was proving a challenge.
It was at this juncture that Oracle's Cloud Technology proved to be a 'silver lining' for the NGO. The adoption of this technology led to several changes for the better - to begin with, the field workers could now spend more time with children, instead of putting their heads together to collate this data! It also helped attract and cultivate relief workers, who live out of a backpack, spend long months away from home, and work in extremely challenging—even dangerous—conditions.
Oracle has been helping the NGO to gain access to a global pool of employee specialists to help in emergencies worldwide.
As Bidisha Pillai, CEO of Save The Children says, "It's a long road ahead, but there is a light at the end of every tunnel - and that light is now visible to our children."
Higher education is another sector that's shaping the future of a new India, and empowering the leaders of tomorrow. By embracing modern technologies, the education sector has taken a leap of faith and the initial results have been very promising. Beyond traditional classroom teaching, Sharda University believes in giving its students the right kind of exposure through real-life situations. The premier private university, based out of Delhi NCR, has always focused on holistic learning and offers a range of courses, right from the undergraduate level to PhD.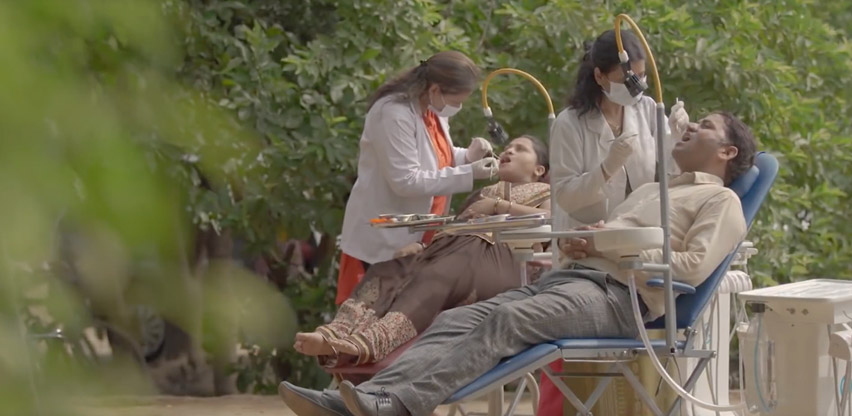 Most of the departments within the University are involved in community-based programmes so that students learn about the ground realities and adopt a more sensitive approach to those who are underprivileged.
Let's take this case, for example: The Department of Public Health Dentistry at the School of Dental Sciences, Sharda University collaborated with local school students and their families, and conducted sessions on the importance of oral health and hygiene. For this initiative, they also roped in neighbouring institutions to foster community building. The students of Sharda University even performed street plays to educate the local community on the importance of dental health, enabling local children to understand and take the message to their near and dear ones.
While the initiative on-ground was a roaring success, the University realised how challenging it was to effectively collect and manage large volumes of data! "A new stream of data is recorded for every participating student and their parents periodically," says Divesh Kamboj, VP-IT, Sharda University. "Collating and analyzing this data became a superhuman task. The success of our initiative depended on the continued tracking of the parameters of progress."
It was at this juncture that they knew they had to seek help and who better than Oracle! Their biggest task was to gain deeper insights into certain areas of importance, and at the same time, they wanted to utilize their resources in a more efficient manner. The adoption of a data-driven approach using Oracle Autonomous Database Cloud helped Sharda University to focus on issues of importance that really matter, so that they could make implementational change, one community at a time!
While digitally enabled tools have already gained traction across sectors, there is definitely room for more mainstream adoption. It is time to carefully consider the merits of adopting technology to improve scalability and efficiency.
Probably, it is time to transform the way businesses are operating. Are you considering a seamless digital transformation? The clock is ticking!